Offering an affordable, custom website for the budget-conscious small to medium size business.
SITEenstein.com
There's a little genius behind Web Design.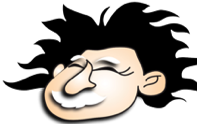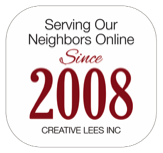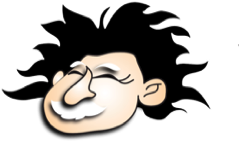 "YOU'RE GOING TO LOVE THE SITE I BUILD FOR YOU, BECAUSE I WORK HARD TO MAKE SURE YOU LOVE IT!"
The 5 Basic Steps
To Having a Site Online
--and how much you can expect to pay.
1. Purchase & Register your Domain Name.
You can do it on your own, or I'll do it for you as a free service when you ask me to build your site. Expect to pay in the neighborhood of under $15 for the name and the registration. You supply Siteenstein with three choices of names in the order of preference and supply me with the registry information and I'll do the search, purchase and registration on your behalf. Because prices vary depending on whether you purchase or register a .com, .net, .org, or other extensions, I'll tell you the exact amount you will have to pay before I make the purchase for you and refund the difference.
2. Decide how many Pages you will need.
I give you an ample site for $450 a page. We'll discuss how many pages you want, but the page price will always remain the same no matter how many pages you desire. That's because the bargain price of $450 per page cannot go any lower. 'l'll consult with you to find out what you want to accomplish and design it accordingly. I'll write your copy and design your look, and tweak it until you're satisfied. You can consult with me for free as many times as you find necessary until you're satisfied that your planning is in place. Free, I offer you Google Maps, Statcounter, Photos and Videos you supply, and a Form. The only extras you pay for are those you create for yourself, such as: You must pay $250 additional if you want a logo (which you can do without in most cases); if your supplied video or audio does not meet industry standards you'll have to pay for the conversion (about $10. but a very rare occurrence); if you require special photography or artwork ( anywhere from $25 up, for which I'll give you a quote in advance). In most cases, you're good to go for $450. upfront if you agree that one page will do the trick.
4. Hosting your site.
There are companies all over the place willing to host your site, even people you might know that have servers stacked in their garages. We are affiliated with a reliable hosting service that maintains several locations that features triple redundancy, meaning that there are 3 separate geographical connections to the internet and 3 diesel generators at each to provide power in the event of an outage. The web servers and email servers are not hosted in the same city, which means that no one event is likely to effect all three simultaneously. You're guaranteed 99.9% service! There are a host of other features (pun intended) that we'll let you know about before you plunk down your money. For most sites, you can have this kind of reliable hosting for as little as $29.95 a year and a one-time sign up fee of just $15. Note:
if you want a privacy-constructed site of https or an email account, although both are reasonably low-priced, that's an additional fee we can discuss your need for (and why) before we begin. I'll explain what they are at the time.
5. Maintaining your site.
Once your site has been proofed, tweaked, and scrutinized to the point where it's as perfect as it will ever get for now, the day will come when it's time to put it up and start making it pay you back by bringing in some business. That's when I have fulfilled my original obligation to you and both our obligations have been met to one another. So what happens next when you get another idea of what you want to happen on your site, or you need "just a teensy weensy change", or you're changing your phone number, discontinuing an item, or a scenario that could arise after the fact? Well, I'm here if you need me, but I don't work for free. I do work cheap, but not for free. If you have one minor change or even if you have several, it's all the same to me. Once I'm working on one I can work on more than one. And if all those changes are what I consider minor changes that will take me no more than an hour and a half, you just pay me $50 If you have a major change that could take me more than an hour, but not more than three, you'll pay me $100. But if there's a problem with your site because I have erred, you'll pay me absolutely nothing of course.
1.Want something on the street level that will draw customers to you? How about a PowerPoint Presentation, a Brochure, a Logo, a TV or Radio Commercial, Direct Mail Piece, EMail Campaign, Point-Of-Purchase Display, Newspaper or Magazine Ad, Package Design, Video Promotion, or a million other things in-between in Print and Broadcast?
2. Visit my other site at the Cheap Ad Agency and see many, many samples of work I've performed in a wide variety of categories and read the free articles I've written to help you navigate down a lot of bumpy advertising avenues. I am truly your One Man Advertising Department. Barry

©2020 All rights reserved. www.Siteenstein.com / owned and operated by Creative Lees, Inc. / Built in EverWeb
visit our sister site at CheapAdAgency.com for total graphic services
3. Let's Talk Mobile-Friendly Site.
Since Google started (Late April 2015) expanding the use of mobile-friendliness for ranking websites, it will create a significant impact on those sites dependant on search results executed on smartphones. Although it won't affect how your site is viewed on tablets and other larger screen devices, you won't be able to show mobile-friendliness on a smartphone unless your site is specifically designed for that purpose. That requires your site be built with different criteria (easier to read type, more interactive spacing to accomodate links activated with a thumb, and smaller overall page width, etc.) in order to be more easily utilized on the smaller phone venue. That's basically what goes into building a mobile site and how it differs graphically from a regular website, Google a large store on your iPhone to see the difference. I will make you a mobile version of the site I build you, or a stand alone mobile site for an additional $300 a page overall, but understand that it has a different size and general parameters that differ greatly from the building of a regular website. I'll explain when we speak.
I show you over
40 site samples!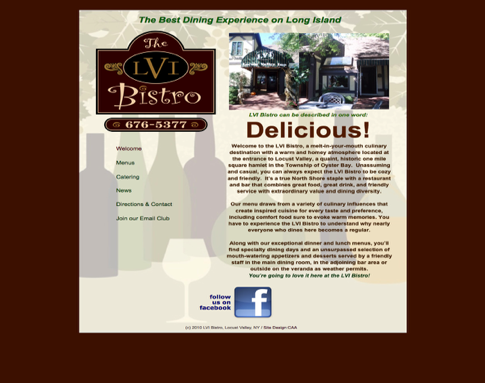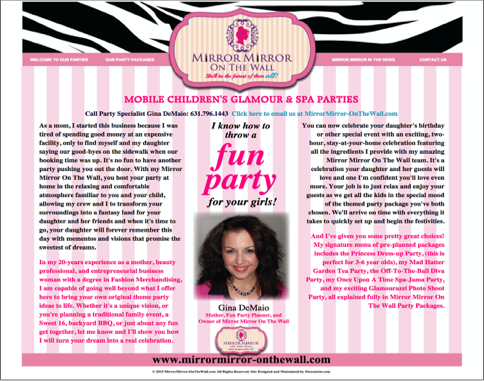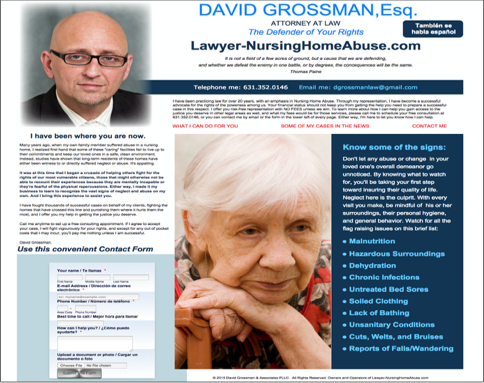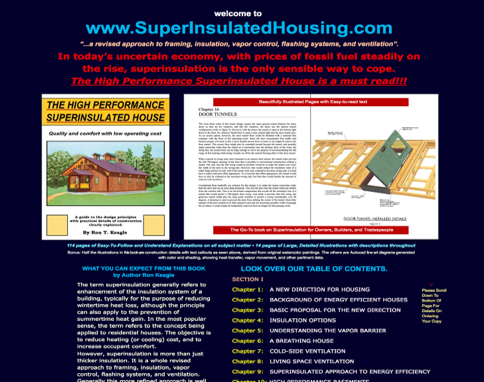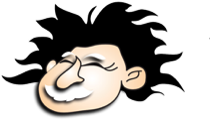 "YOU'RE GOING TO LOVE THE SITE
I BUILD FOR YOU, BECAUSE I WORK HARD
TO MAKE SURE YOU LOVE IT!"
Hi, I'm Barry Lee.
Some of the website landing pages you see here are clickable to the full working site; these are all the ones associated with me and my business efforts.The remainder are all sites that I have built for my clients.
I recently discontinued creating live links to clients' sites because some might have gone out of business, some may have switched to another format using their cousin or someone else to maintain and host their site, and others having thrived to the point where they no longer believe that they require my assistance. There are a myriad of reasons that I don't retain site owners as clients once they have gotten from me what they came for. I build sites and offer many followup services to attract business to them. No one is under any long term obligation to continue with me or be obligated to pay monthly fees to get the services they need.
I'm proud of what I have done and continue to do. This page contains a small sampling of the websites that I have built along the way for a wide variety of small to medium size businesses owned by individuals like you, who for one reason or another have made the decision to embrace an entrepreneurial lifestyle. I never use formulas or rely on templates, each site is as unique as their own product or service. Since I am the originator of The Cheap Ad Agency, that in itself should speak volumes on my pricing. In fact, although you can always add on expensive extras, I try to advise you to never order anything beyond what is necessary to create a totally well functioning website. In most cases, my basic rate is all you will need to pay.
So, if you want someone who 'gets it' when you explain what you're looking for and you need patient guidance, not an arrogant attitude, I'm your guy.
You'll find a complete summary and my basic price in the comprehensive five point explanation below. If questions linger after you've read it, please don't hesitate to call or email me. Consultation is always free for as long as you need it.
In fact, if you're still on the fence about creating a website at all, you might want to take a few more minutes and read my column entitled: "A Guide To Planning Your Website" on the next page.
Enjoy your day.
Barry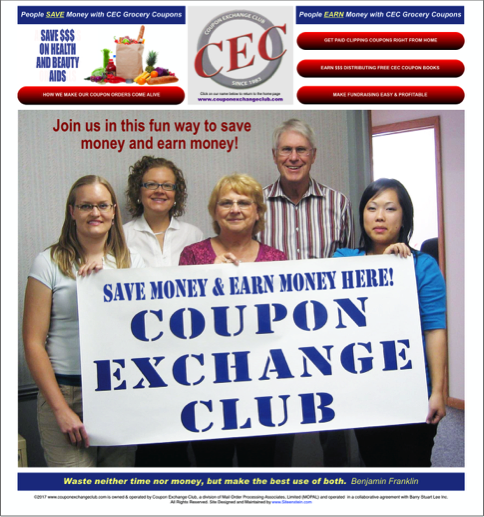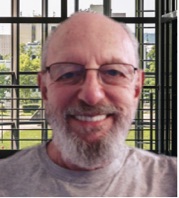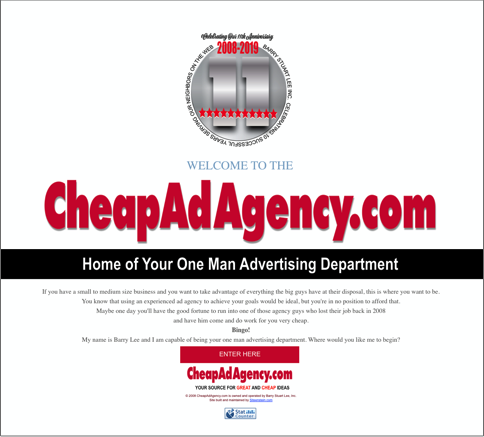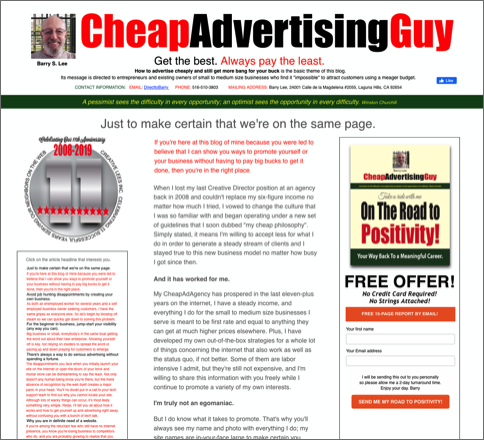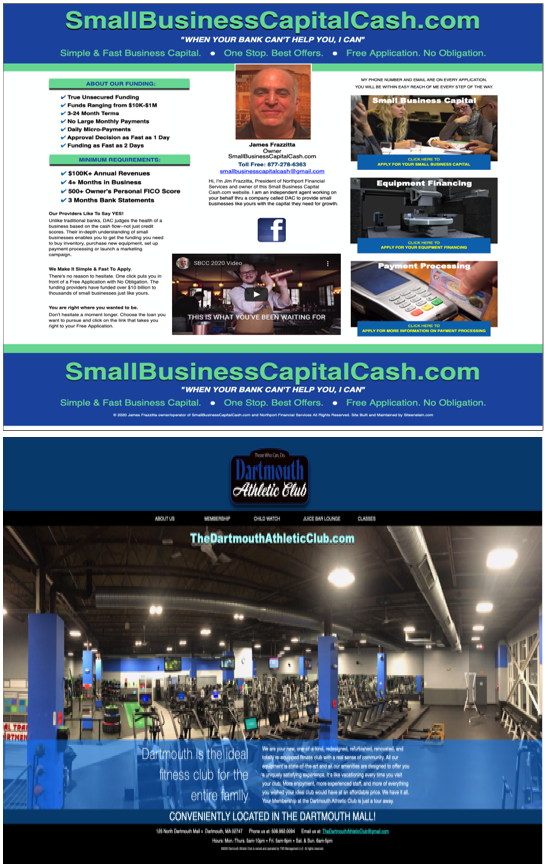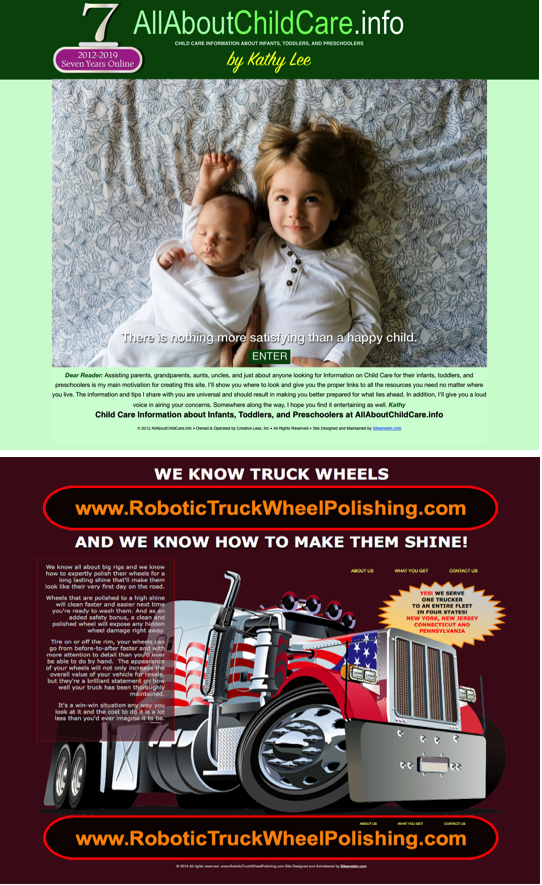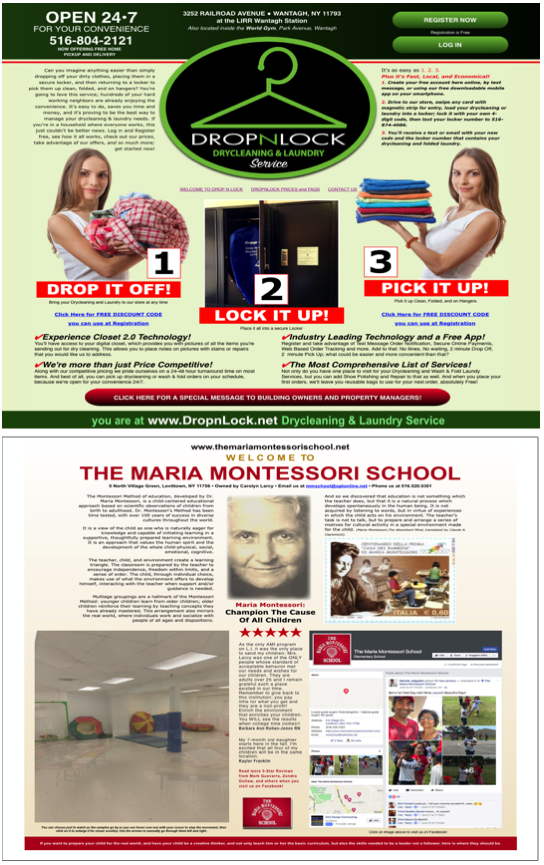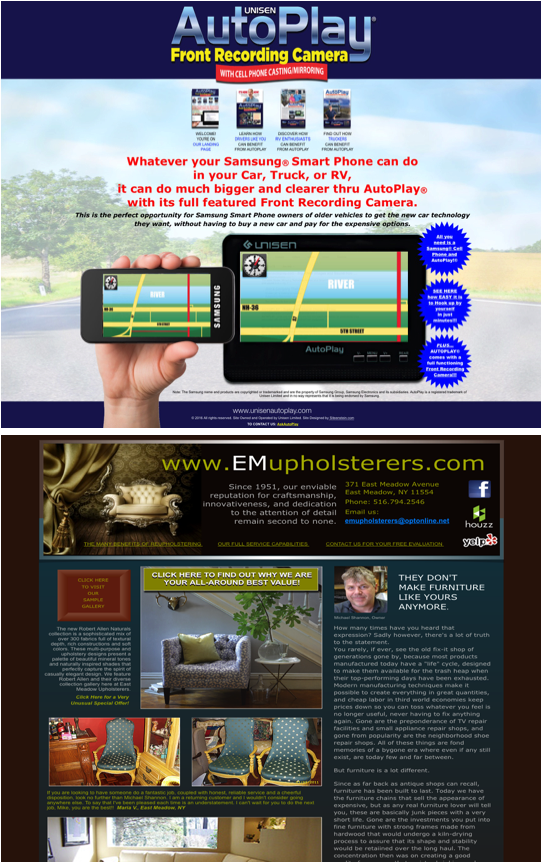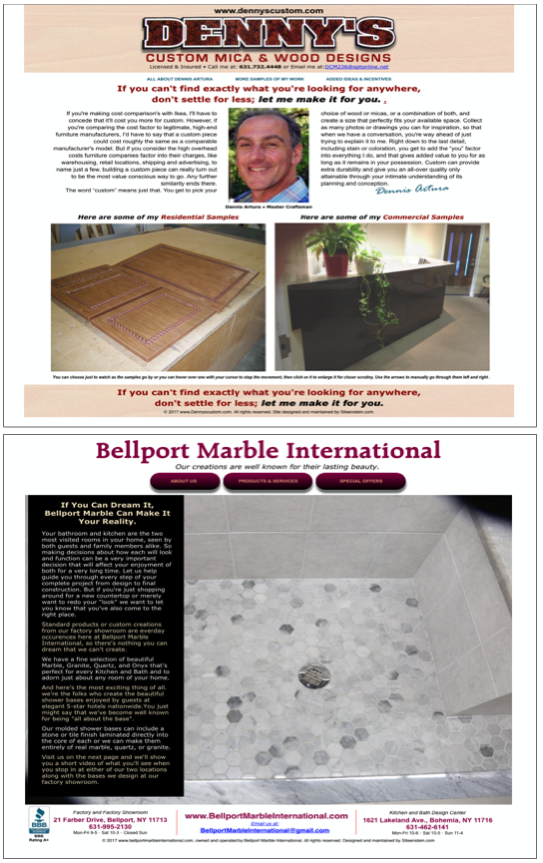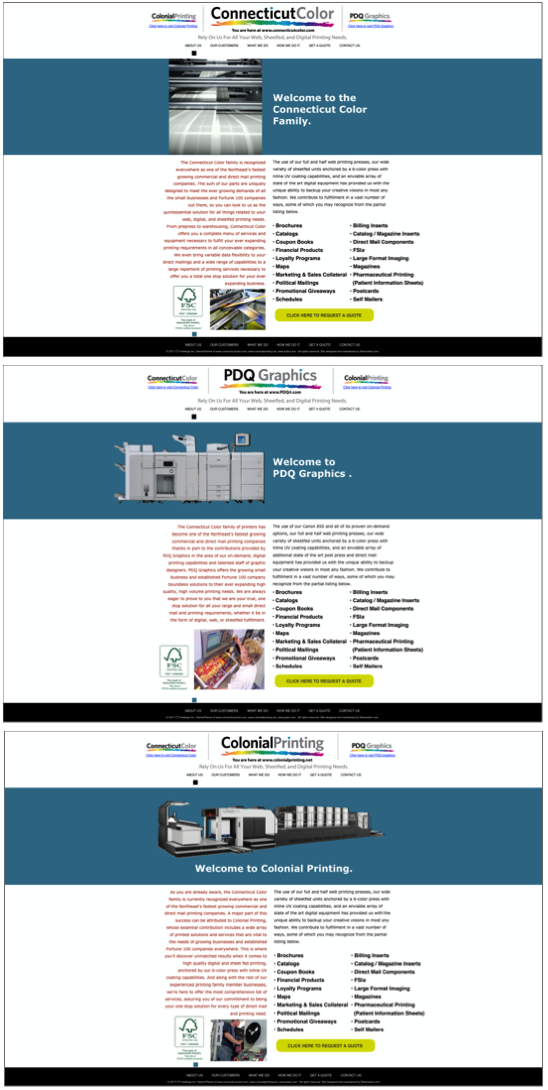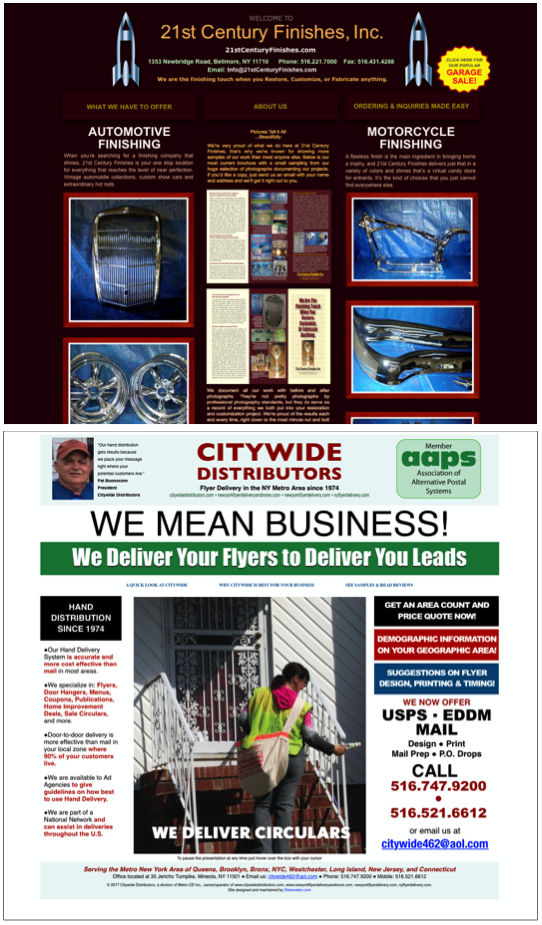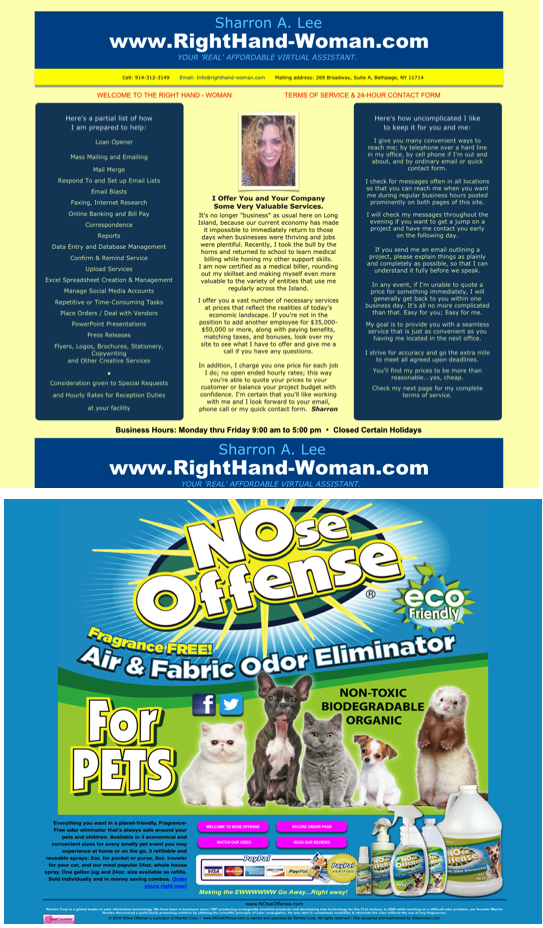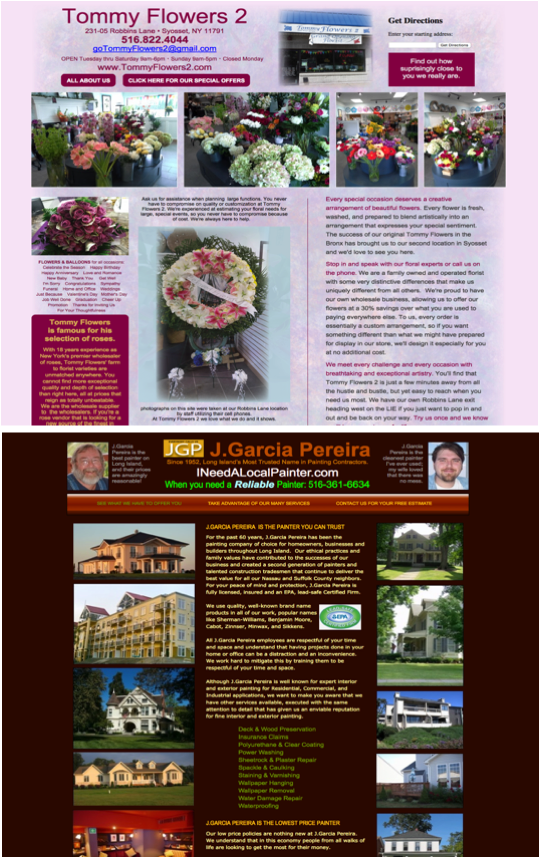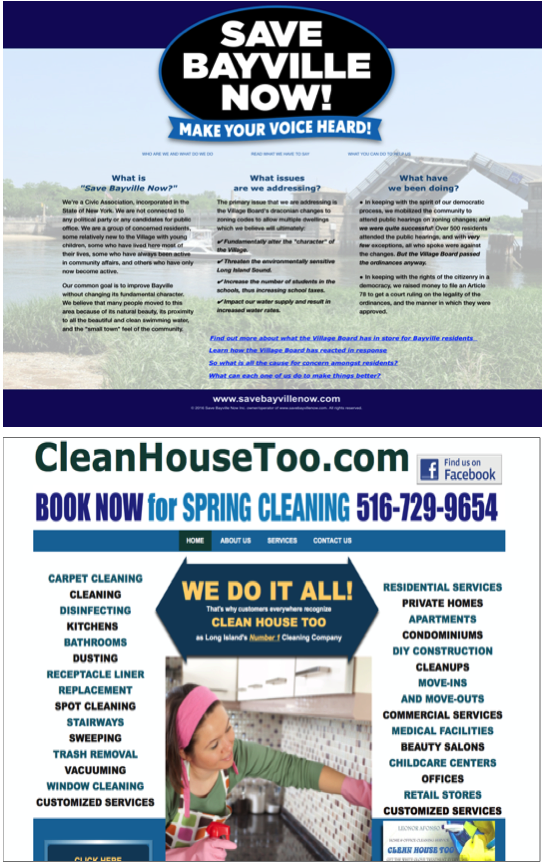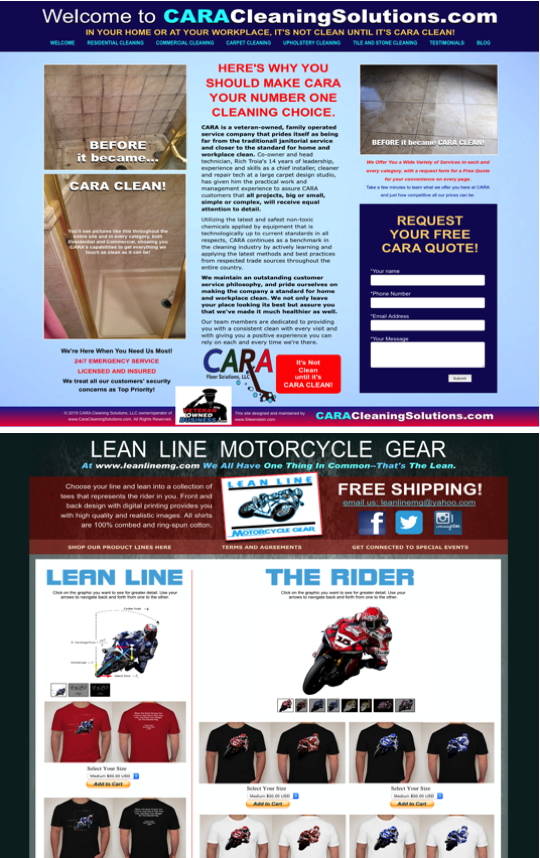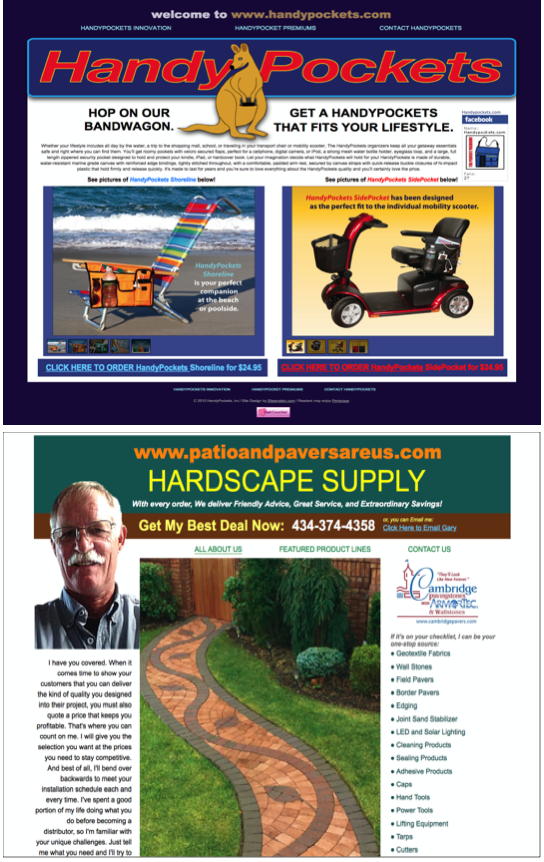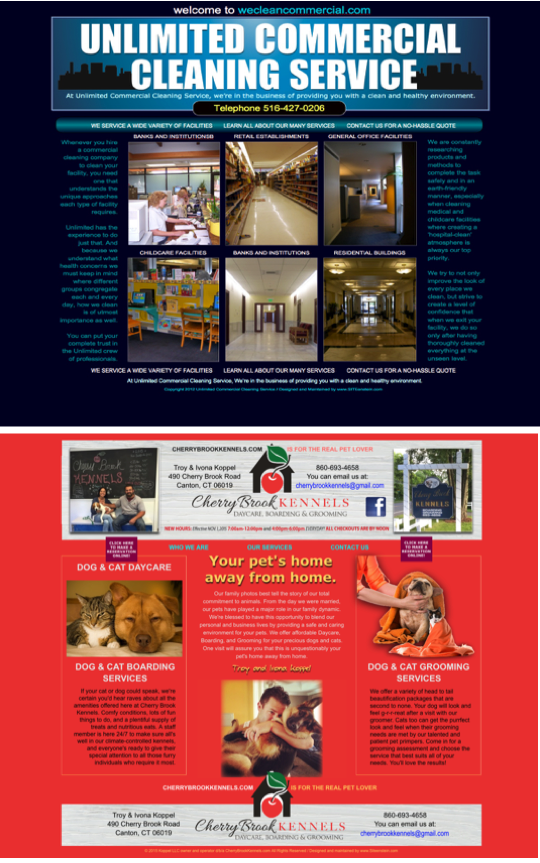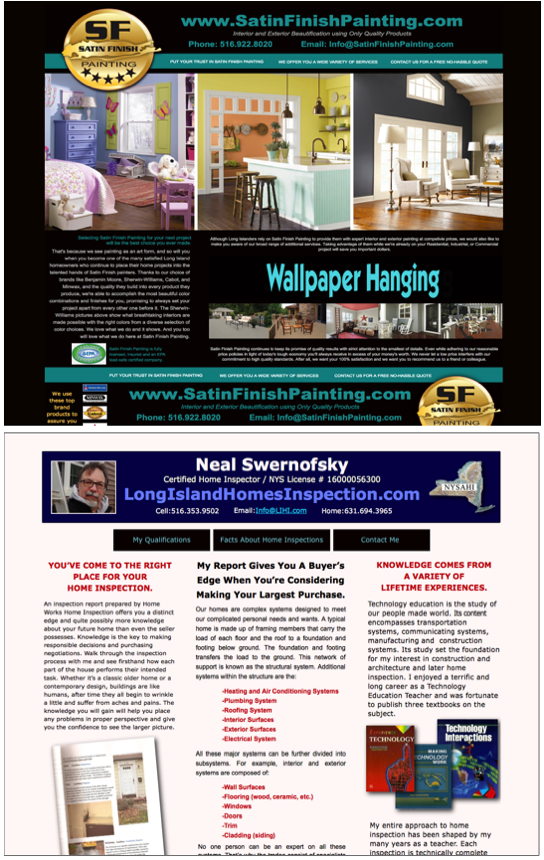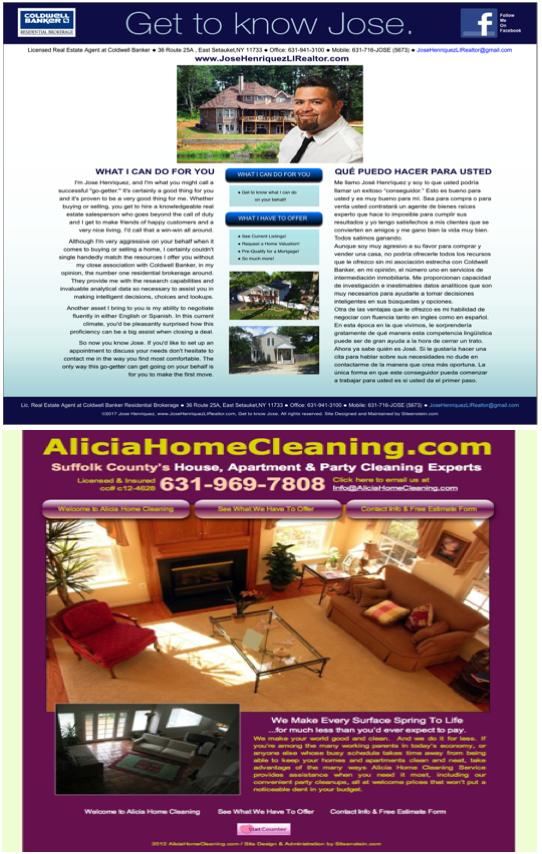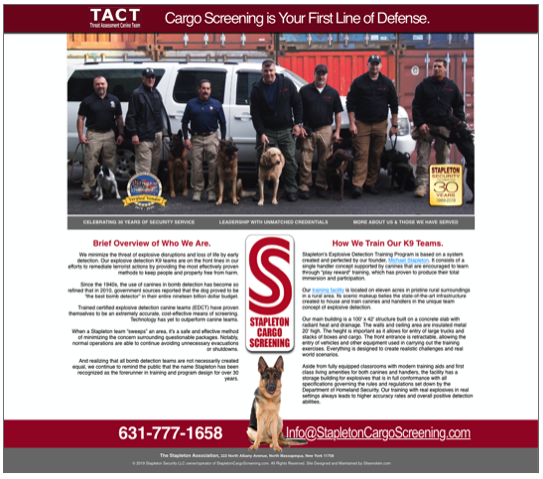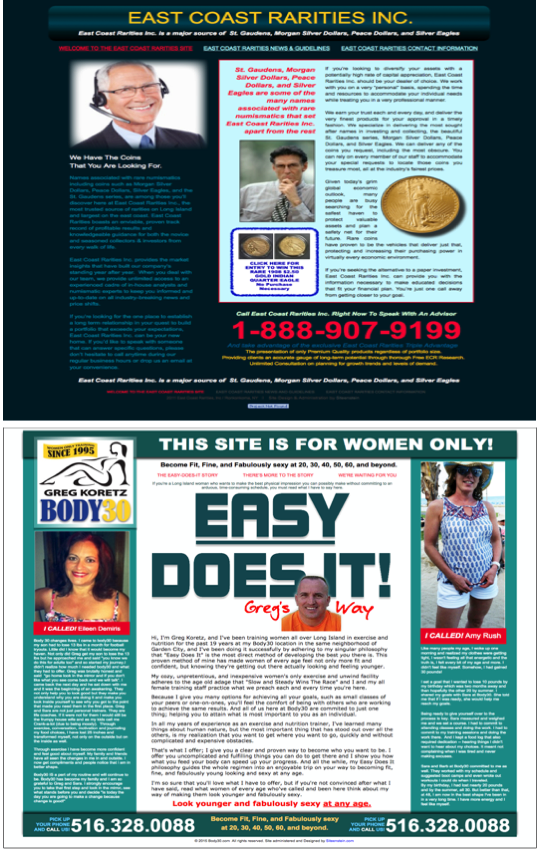 Website samples continued on the next page.