Kudos from Clients:
"I have a popular painting contractor company that got hit a bit by the economy, and the website I originally paid big bucks for wasn't doing me a bit of good. That's when I saw an ad for SITEenstein and decided to give them a shot. It turned out to be the best investment I could have made and completely turned my business around as a result, all without putting a major dent in my wallet." Peter A., Owner
INeedALocalPainter.com
"There's big competition in the cleaning services business and I needed to keep up with all the advertising done online, so I used SITEenstein to build me a website. The layout, the copy, everything was so well thought out and so easy to understand. I OK'd the whole thing without a single change. Thanks Barry." Leanor A., Owner CleanHouseToo.com
"As a person who has spent their entire career in child care, I really wanted to help families get the right information online, SITEenstein built me a site that is so well thought out that it makes my job easier to organize the data. I also love the way it looks. It's a whole lot more than I expected for the money it cost." Kathy L., Owner AllAboutChildCare.info
"When our church decided that we needed a website, the volunteers knew we didn't have the time or expertise to create one. That's when we found SITEenstein and Barry. He came to meet with us, showed us his vision for our site, and did the design work for a very fair fee. Since then, he has maintained our site and given us great ideas to expand it and increase our exposure on the web. Barry is the best!!!" Bill Charon TrinityLutheranGlenCove.com
"I needed a site that reflected my religious values and allowed me to send my message of faith to all my potential clients. Barry and SITEenstein gave me that opportunity in a way that I never imagined. I am thoroughly pleased. God bless you all."
Stephen K. Lee Esq., Owner
MIke Shannon, Owner EMUpholsterers.com
"Dear Mr. Lee, I want to thank you on behalf of the children at the Maria Montessori School. It was very kind of you to share your skills and talent on our website." Carolyn Larcy, Owner
TheMariaMontessoriSchool.net
Offering an affordable, custom website for the budget-conscious small to medium size business.
SITEenstein.com
There's a little genius behind Web Design.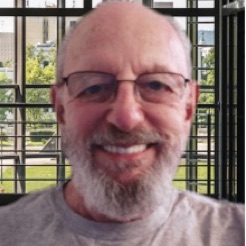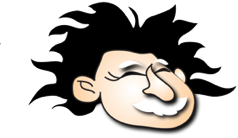 Doing business on the web has become an accepted practice, as evidenced by the almost three quarters of America's small to medium size business community members making their presence known on the internet. This guide is meant to answer some commonly asked questions and serve as somewhat of a blueprint for the nearly thirty percent of those still undecided.
The most frequent question entrepreneurs ask is whether they really need to be represented by a website. My answer, when they ask that question is to answer with a question of my own: "Do you search for products or services online or do you search through the yellow pages or newspaper? Invariably, their answer is a 'yes' for doing an online search. Then I ask, "So don't you think your potential customers will do the same?"
It just makes perfect sense; if you're not on the internet, it's likely your competition is. Therefore, if someone is searching in the category of what you have to offer, your name won't surface on any search if you're not a part of the online population. But fear not, if you want to make your presence known, it doesn't have to be a daunting process or even a costly one for that matter, because if you just do some simple planning, you'll discover that the process can be inexpensive, easy, and enjoyable, and you can end up owning a functioning website in just a week or two. Read on.
THE BENEFITS OF BEING ONLINE
According to a Small Business Survey conducted in 2009 by a major player in the online printing scene, 32% of small business owners responding said they would work on web development if they had more time or money to devote to the pursuit. If you just take a moment and try to come up with the name of any major company in any industry that doesn't make its presence known on the internet, my guess is that you'll come up with a big fat zero. That's because there are some really valuable benefits for representation online whether you're a huge conglomerate or an individual service provider.
The web gives you a level playing field no matter how small you are. This is your opportunity to give the impression that you're as big as you feel. You can design a website to impress, and convince. Am I writing this column from my corporate headquarters located here on Madison Avenue in New York City, or am I sitting in my underwear here at my computer at home? You'll never know. That's the basic incentive for the design of your site. You might be small and lack
A GUIDE TO PLANNING
YOUR WEBSITE
A 'Must Read' if you're a small to medium size business planning your presence online and want some basic up-front guidance.
(FAQs) FREQUENTLY ASKED QUESTIONS
WHY I ASK TO BE PAID AT TIME OF ORDER?
I know how to converse on advertising matters and I know that my flat rate prices are extremely low and more than fair, but in order to get the work most times, I have to lay out a plan of action for you, which always includes a lot of creative ideas and information outlining what I intend to do for you and why. In fact, my site offers unlimited consultation by phone or email. So after just one or several of these sessions that could add up to hours, I feel that I am giving you a wealth of information, creative ideas, encouragement, and guidance that you didn't possess before we met. That's my good faith contribution to our working partnership and yours would be to honor my policy and pay me at time of order.
I have a site built up over 6 years on the internet that shows you a lot of samples in so many categories, just to reassure you that I am up to the task. In my long career in advertising I have experienced clients who have suffered a number of personal emergencies, including economic upheavals affecting their businesses, and other factors that arise to compromise their ability or willingness to pay for what I have done to that point or what I have done on a completed project. Although I am always sympathetic to someone's unfortunate situation, I cannot work and wonder if I'll become part of it, therefore, for those reasons I have a strict policy of being paid before I begin the work.
In the beginning I was more laid back about requiring payment because I wanted work at any cost. Since then, I have proven myself to be a reliable entity and regularly get inquiries from around the country and sometimes around the globe. While most people are ethical, getting paid for a job upfront ensures that I am protected from those who are not. It's not a personal thing against you; I have references that can be checked, I have been on the internet for 6 years without negative incidents, and I am no stranger to many respected industry people. I even offer you the ability to pay by PayPal as well as other means. I know of no internet business that doesn't require payment before they ship, lawyers who receive retainers, cable bills, insurance and HMO invoices are all examples of payments before receipt of services. I can be a great asset to you and your business doing what I do, all I ask is that you not give me a difficult time about my strict policy of being paid at time of order.
Will SITEenstein give me a discount if I order more than 3 pages?
Every Page costs $450. (A bargain, I might add.) Whether you build a site with one or more pages.
How much will SITEenstein charge me to add an audio or video clip to my site?
If the audio or video is compliant with the formats that can be loaded without any conversion or alteration, there will be no charge. If it requires that I spend additional time to bring it into compliance, only then will I quote a charge in advance so that you can make the decision to accept the expense.
How long will it take SITEenstein to complete my site?
Usually about a week, sometimes as much as 3 weeks. It's all hand and mind work and all original. Telephone conversations and email contact might be necessary to clear up things along the way. I want your site up and running as much as you do but I also want it to be accurate and require open communication in pursuit of that goal.
Besides a fancy intro and an original logo design, what will cost me extra?
Since most things are covered, only special photos from a photography site that must be purchased and special order artwork and a logo will cost you extra. If anything else surfaces that I failed to mention here, you'll know it up front. There will be no surprises.
How do I go about paying for this whole thing?
Pay the basic price for as many pages as you agree to do. Unless you order anything extra such as a logo, special photo, artwork, hosting, or anything else that requires an additional charge, my rate is all you'll pay. Once you're happy with the price, you go to the Buy Now button on this page and follow the prompts to pay securely with your credit card. When I receive notice of your payment I'll get right on your job.
In addition to PayPal, can I pay by check or money order?
Sure you can. I understand that not everyone has a credit card. This might hold me up until I receive your payment, but when I do, I'll get right to it and let you know when your payment has been received.
If you have questions not covered here, please don't hesitate to make contact with me...
Remember, Consultation is always free, no matter how many times you care to use it.
If you need anything to compete with anyone in Print, Broadcast, or Direct Mail, you must visit my Cheap Ad Agency. (You can even get a first rate PowerPoint Presentation)
Just shoot me an email with all your questions
and concerns and I'll email or call you back.
Just tell me what you prefer.
Call and leave me a message, if I'm on the
phone with other clients, or out of the office
I'll call you back.
516-510-3803
You never pay anything to speak with me,
so please don't hesitate to call or email me
if you have a question.
I'm very friendly and no longer bite.
Your information is safe with me; I will use it only to contact you and will not reveal it to third parties, nor will I use it to solicit business from you if you decide not to work with me.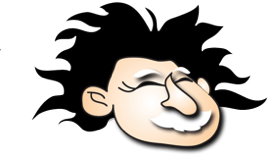 If you're serious about making your mark on the internet, and you're serious about making it happen, click on the image above and go to my Cheeper.info site to learn all about my
Due Diligence way of moving ahead of the pack.
Rank High. Get Known.
Get Busy Doing Business On The internet.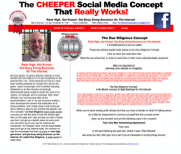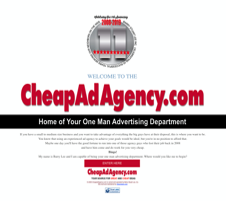 Consultation is free
no matter how many times you use it.
CREATE YOUR WEBSITE
The first step is to plan and execute your site. It doesn't have to be fancy, just informative. It doesn't have to be overly sophisticated because you're not online to compete with IBM. What you should concentrate on is your look, your connection to the potential customer, and their ease in reaching out to you for your product or service. People respond to intelligently crafted sites that are easy to use and informative. Keep it simple but attractive. Simplicity goes a long way in making the visitor comfortable. Once you're up and running, it's easy to add things later on, like analytics that track your visitor's demographics and other useful aids. However, to get started, you just need a few pages with an attractive representation of your offerings and a way for them to make contact.
KEEP IT CURRENT
Once you have a Domain Name (easy and inexpensive to obtain) and once you have selected a host that will keep your site running, a maintenance person to keep it current (also, both easy and inexpensive), the rest is easy. Always keep your site current, update your information if it becomes necessary to do so, and add pages as your business increases and your menu of offerings grow. If you want to create a survey on your site to find out what improvements your visitors would like to see, do so. Most importantly, don't create a monster going in. If you make a bigger site than you're capable of maintaining, it will show. Start small and grow at your own pace.
YOU'VE ONLY JUST BEGUN
Finally, A whole world of e-tools await you (many of them free). I can show you how to add analytics to your site so you can track visitors and their demographics, without any cost to you. I can also show you how I can design and maintain an email campaign for you that links to the major social media sites--cheaply, of course. Once you're online and various needs arise, you'll become more internet savvy and learn how to track down all the shareware there is in abundance. In fact, I'll give you a head start on what you want to learn and steer you in the right direction. All you have to do is ask--for free of course. I hope this brief guide has been helpful in getting you started. Contact me if you need help at any time. Barry
SITEenstein makes it easy to get started!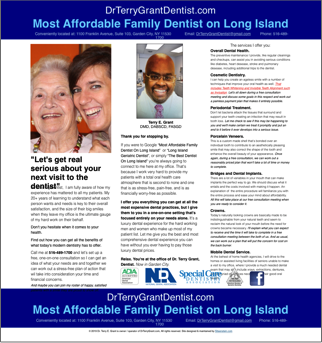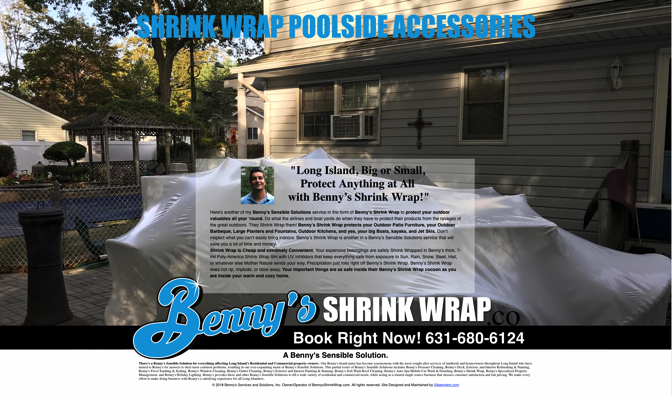 the funds to afford an impressive brick and mortar location, but on the internet, good design and good copy go a long way in providing you with a substantial face to your potential customers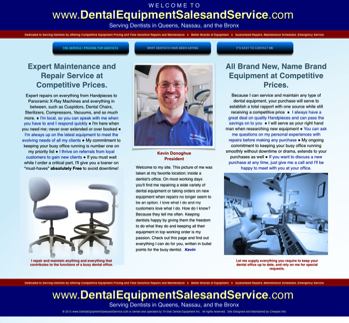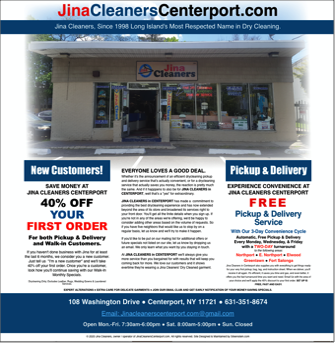 ©2020 All rights reserved. www.Siteenstein.com / owned and operated by Creative Lees, Inc. / Built in EverWeb
visit our sister site at CheapAdAgency.com for total graphic services